Data sheets for Pressure Sensitive Adhesives (PSA) tapes contain a range of physical property measurements. Understanding what these tests mean is important in being able to determine if a particular tape product is right for your application. The most common performance measures are peel, tack and shear. While there are many variants on how these tests are performed, the most common methods are described below.
Peel
Peel is a measure of adhesion – how well the tape sticks to a specific surface. It is measured by bonding a tape strip to a surface and then recording the force required to pull it off in a controlled manner.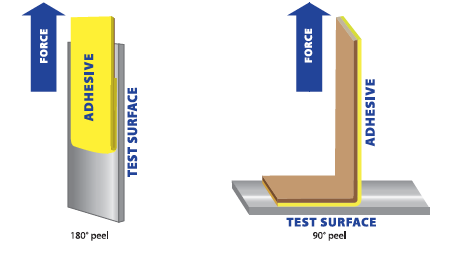 For QC testing purposes, the most common test surface is stainless steel, although other materials are also used and may be seen on data sheets and application specific tests (such as glass, HDPE, PP, ABS and more). The tape is applied to the surface with a defined amount of pressure and then allowed to remain on the surface for a controlled amount of time (often 20 minutes but tests using 24 hours, or more are also performed).
After that time, the tape is peeled off using a machine capable of measuring the force needed. A controlled speed is used (typically 12 inch/minute) as is a controlled angle (with 180° being the most common, although 90° may be used for some very thick tapes). The peel force is reported in units of force per width, such as ozf/in or N/25mm.
Controlling the speed and dwell time are key to getting consistent results due to the viscoelastic behavior of PSAs.
Peel Test
When the test strip is peeled away from the surface it can behave in one of several ways. The tape can remove cleanly from the surface, which is defined as adhesive failure. Alternatively, the tape can remove leaving some of the adhesive behind on the surface and some still on the tape backing, which is called cohesive failure.

Combinations of the two are also possible, though less common.